Network Services
Harness the Power of Digital India
India presents a significant opportunity for global enterprises thanks to its rapidly growing economy, vast population, and highly skilled workforce. However, dependable business-grade network solutions can be complex.
Sify operates a substantial country-wide data network in India that enables the provision of Internet, WAN, data centre and cloud connect solutions to carriers and multinational enterprises.
With network connections to many enterprise buildings, data centres, cable landing stations and Internet exchanges, Sify is well placed to help with your connectivity challenge.
Our data centres host many multinational corporations, including cloud and content providers, making interconnections seamless.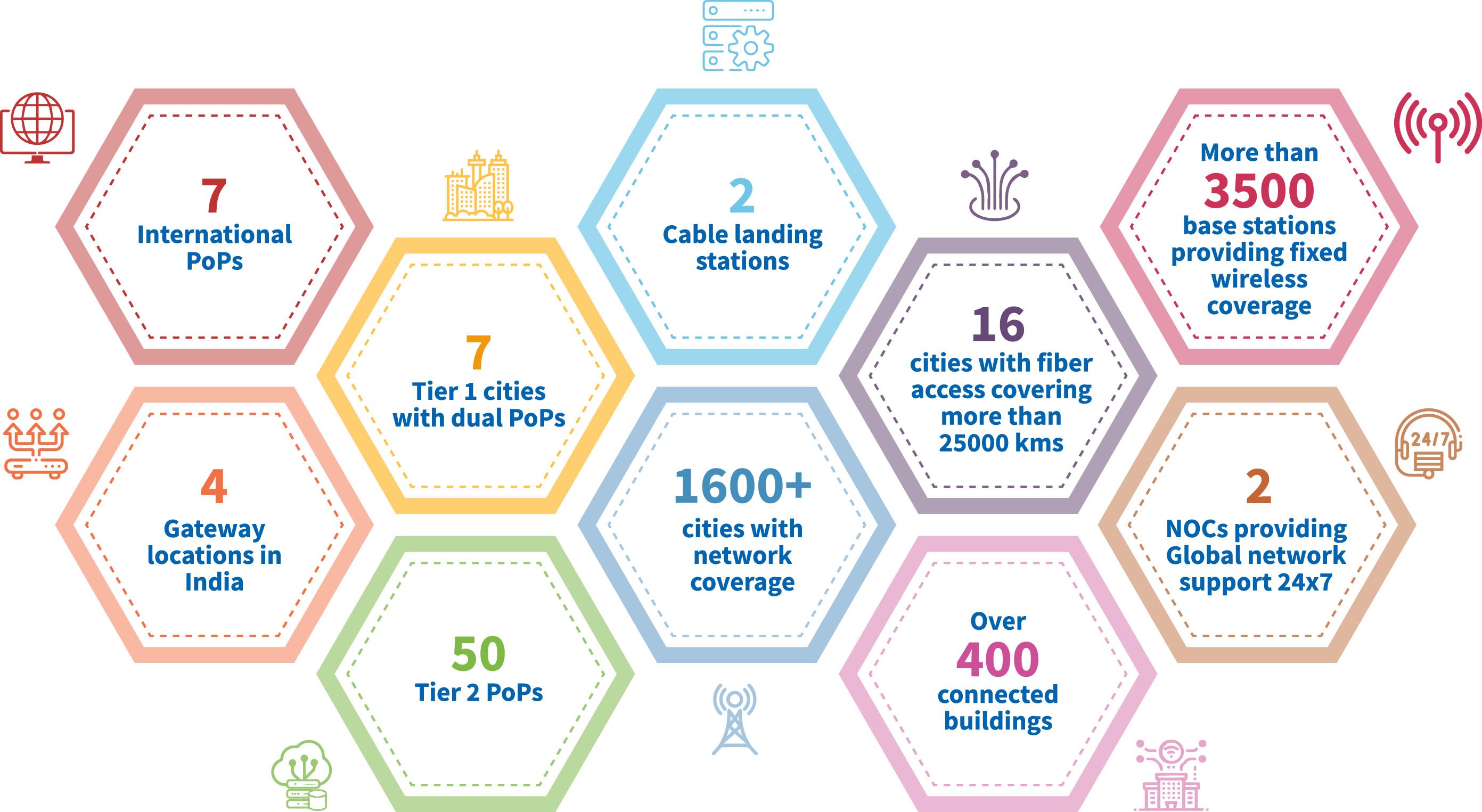 Why Expand into India?
With a vast population, the fifth-largest global economy and high annual growth, plus a highly educated and technology-savvy workforce, India is an exciting market for overseas businesses and investors. But this economy cannot grow without a means to connect more people with more services.
It is the network that enables the distributed workforce, provides capacity for increased business transactions, delivers the flexibility to respond to business demands rapidly, and ultimately gain a competitive advantage. Successful businesses see their network as an enabler to increased productivity and success.
Sify can help.
How Sify Can Help?
Sify owns and operates one of India's most extensive data networks that reach over 1,600 towns & cities. We have invested heavily in ten hyperscale data centres in the region, with further data centre expansion in our roadmap. It is why over 10,000 businesses globally trust our services to provide network connectivity, internet services and data centre solutions in India.
About Sify
Sify is an IT and Digital Services company that was formed in 1995 and Nasdaq listed since 1999. We help over ten thousand clients and partners improve business operational efficiency and deliver excellence on the Indian subcontinent and globally through network services, data centres services, professional services and digital learning.
Headquartered in India, Sify is widely respected as a Fortune India 500 company accredited as an IT service provider, system integrator and all-in-one network solutions company.
"Sify has done a great job in animating some of the PowerPoints with narration and interactivity. Edits and turn-around times have been very quick. I think this will be something revolutionary for the department." Healthcare Company
"Sify's team have been very supportive throughout the development process and helped us align and present our content in a manner that will definitely help achieve our objectives." Subject Matter Expert for NMMA Application
"I'm so pleased with the storyboard you have put together!" Global Medical Company
"I would like to thank the entire training and development team. The videos are unbelievable in quality, content, and usefulness." Electric Supply Company